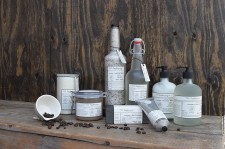 Saint Louis, Missouri, March 8, 2017 (Newswire.com) - K. Hall Studio, a St. Louis based handcrafted goods and fragrance company, has added a new collection to their U.S. Apothecary Brand. U.S. Apothecary products are known for their homeopathic remedies coupled with beautifully crafted scents. The new collection is called "Coffee and Vanilla Bean." The collection has been formulated with antioxidant rich caffeine extract and black clay to help revitalize skin by stimulating cells, reduce inflammation and detoxify impurities for a healthy glow.
"We are thrilled to announce the new U.S. Apothecary Coffee and Vanilla Bean Collection. The collection not only has purposeful and beneficial properties, it has a beautifully invigorating fragrance. As with all of our quality, handcrafted products, we take pride that the collection is produced in the United States," said Scott Miller, CEO of K.Hall Studio.
The U.S. Apothecary Coffee and Vanilla Bean collection includes bath soak, soy wax candles, hand soaps and lotions, black clay bar soap, body scrub, bubble bath and a black clay mask. The current retail lines manufactured by K. Hall Studio are K. Hall Designs, Simpatico, U.S. Apothecary, Barr-Co. and Opaline. To learn more about K. Hall Studio and the new collection, visit www.khalldesigns.com.
#####
Media Contact: 
Jennifer Jermak
Phone: 314.583.7132
Email: Jennifer@claytondavis.com
Source: K.Hall Studio
Share: